Manila Government is innocent: MNLF Tausug muslims and MILF Maguindanao/Maranao muslims are also fighting each other- Give 'em Federal Govt for lasting peace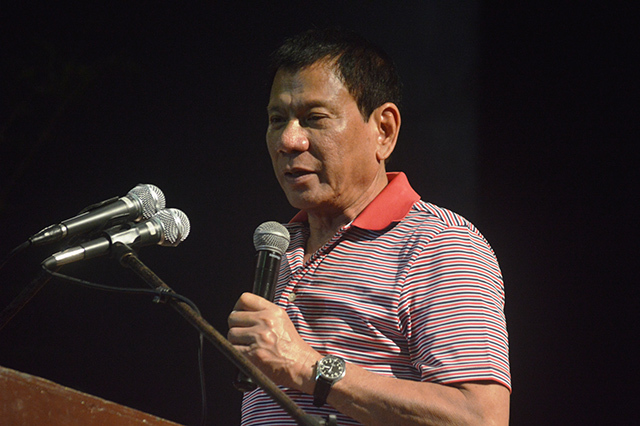 LISTENING TOUR. Duterte visited Dapitan City and Dipolog City in Zamboanga del Norte, and Dumaguete City in Negros Occidental for consultations on changing the government system to federalism. Photo by Gualberto Laput - Rappler.com
Mindanao is boiling, violence may erupt anytime – Duterte
The failure of the proposed Bangsamoro law – stalled since the bloody Mamasapano clash – would be 'tantamount to trimming the MILF's tail,' says the mayor of Mindanao's biggest city
ZAMBOANGA DEL NORTE,
Philippines – With the proposed Bangsamoro Basic Law (BBL) stalled after a clash in Maguindano killed 44 police commandos,
Davao Mayor Rodrigo Duterte said Mindanao is now "boiling" and violence may erupt again anytime.
"BBL's failure at this stage is tantamount to trimming the [Moro Islamic Liberation Front] tail," Duterte explained. "Delikado kay masamok na pud ni (It's dangerous because it may lead to the resumption of fighting)," he said during a forum here on Thursday, February 12.
Duterte
visited Dapitan City and Dipolog City in Zamboanga del Norte, and Dumaguete City in Negros Occidental, on Thursday for consultations on changing the government system to federalism.
Duterte, mayor of Mindanao's biggest city, said rebellion now is not mainly fought by armies, "but Mindanao will again experience bombings, ambuscades, assassinations," or there will be sowing of terror in civilian communities.
He said he also has misgivings about some provisions of the BBL. "It's too much too soon, being the product of government peace negotiators who are not from Mindanao, who do not have in-depth understanding of how we live here, our problems and how we solve them."
The mayor said it is vital to understand the diverse cultures of Mindanao relative to peace initiatives because Muslim tribes themselves cannot go along with each other.
"Dili na sila magkasinabot (They can't along). Talk peace with the Moro National Liberation Front (whose members are mainly Tausugs, Yakans, and Samals), and MILF (whose members are Maguindanaos and Maranaws) came out fighting. You talk peace with the MILF, and the MNLF draws its gun."
Duterte likened the Muslim communities in Mindanao to Arab countries. "They are all Muslims, but they still fight with each other. It has nothing to do with religion. It's all tribal."
At the surface, he said, it seemed that SAF was sent by a commander who didn't know about the area of their operation. If their commanders knew the area, they should have prepared for the worst.
"Me, I know who can enter any place in that area. I know which police or military units can go to which place. I know the fish vendor who can go there," he said.
Asked how he would solve Mindanao's historical peace and order problem, Duterte quickly answered: "Federalism. And the Muslim tribes must have two states like that of the sultanates before. But if there are two things we should not give up, the military-police force and international relations."
–
Rappler.com